About Us | Mission | Interview - Why Help | History | Affiliations | How it Works | About Cotacachi | Family Profile
Meet our affiliates! ASEAC is formally affiliated with the Union of Peasant and Indigenous Organizations of Cotacachi (UNORCAC). We are also informally affiliated with Shepard Middle School in suburban Chicago. For information on the generous contributions and support of each of these groups, please read below!
The Union of Peasant and Indigenous Organizations of Cotacachi (UNORCAC)
The Unión de Organizaciones Campesinas e Indígenas de Cotacachi (Union of Peasant and Indigenous Organizations of Cotacachi, UNORCAC) is a second-tier indigenous organization located in urban Cotacachi. Second-tier indigenous organizations represent the "second tier" of political organization among indigenous populations in Ecuador, representing local communities within broader provincial and national social organizations. Since its founding in the late 1970s, UNORCAC has remained firmly dedicated to the defense of the local Kichwa population and today works towards the organizational, social, economic and environmental "development with identity" of its 43 affiliate communities.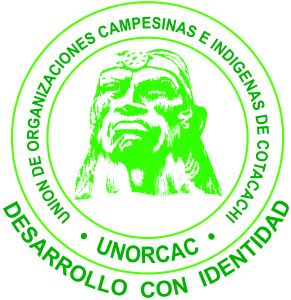 As a member organization of UNORCAC, the Asociación de Educadores Ambientalistas de Cotacachi (Association of Environmental Educators of Cotacachi, ASEAC) operates out of UNORCAC's offices and in coordination with its leadership, mission and goals. The ASEAC Team thanks UNORCAC for all of the technical, administrative and infrastructural support that it has provided us since our founding!
For more information about UNORCAC, please visit: www.unorcac.org.
---------------------------------------------------------------------------------------------------

Shepard Middle School – Deerfield, Chicago
In December 2006, Claire Nicklin, a consultant on agriculture and environment development projects in Ecuador, and Barbara Johnson, a Spanish teacher at Shepard Middle School in Deerfield, Chicago, met to talk about Claire's work and how Barbara's students could get involved. At the time, Claire was working with UNORCAC on a native agro-biodiversity conservation program that tangentially involved the bilingual (Spanish-Kichwa) community schools, and both women thought some cross cultural learning around food, environments and special holidays would benefit both groups of students. But when Barbara introduced her students to life in Cotacachi, what started as a cross-cultural educational project turned into something more. Eighth graders in Chicago who take education for granted were surprised to learn that some 12 year olds in Cotacachi could not attend high school for lack of funds. The Shepard students became excited by the idea that they could help make a difference, if only for a couple of kids. With Claire's help, students from Shepard Middle School were introduced to students at Marco Tulio Hidrovo School in the community of Topo Grande through the exchange of written stories and photos. Spanish was a second language for both sides but it worked. It was a warm and personal cultural exchange.
The Shepard students then set to work thinking of ideas for raising money to help send students to high school. It started with a "bake and bracelet sale." They had seen the Ecuadorian hand woven bracelets and loved them. The students from Topo Grande made and sent hundreds of them to Deerfield where they were sold for $2.00 each at school. At the same time a seventh grader decided that he wanted to give half of his gift money from his bar mitzvah to the scholarship cause. There was now enough for four students to continue their educations. With the help of teacher Milton Rubio from the Marco Tulio Hidrovo School, four girls were selected to receive scholarships for the 2007-08 school year.
In August 2007 Claire was married in Quito and a few days before the wedding Barbara and about 20 of Claire's friends and family went to Cotacachi to meet the four students, some of their parents and teacher. They were presented with tuition for their first year in secondary education. The scholarship program was launched!
Shepard Middle School's 2007-08 eighth grade class followed with enthusiasm and the fundraisers got more elaborate with the help of parents and community members. The artisan fundraiser in 2008 was expanded to include hats, gloves and scarves, and Shepard students raised around $2500. By 2009 there were a lot more students in the program. Claire then secured a Peace Corps volunteer to help with the communication between Shepard Middle School and the scholarship students. This communication drove Shepard Middle School and helpful parents to continue to fund the project via larger annual fundraisers. A 2009 concert, put on by Shepard students and attended by over 300 persons in Deerfield, raised over $5000. A fashion show in 2010 brought around $2000 for the scholarship recipients, and the CARNAVAL in February of 2011 netted over $10,000 for the program. Other fundraisers have included a chocolate sale and annual sales of handicrafts, each bringing in between $1200 and $2000.
The Scholarship Team is grateful to our good friends at Shepard Middle School for their initial interest in our children and communities, and for their continued support throughout the years!