About Us | Mission |  Interview - Why Help | History | Affiliations | How it Works | About Cotacachi | Family Profile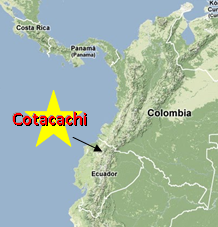 Canton (or Cotacachi County) is located in the province of Imbabura, approximately 80 km north of Ecuador's capital, Quito. The canton is incredibly diverse, encompassing Andean mountains in the east and tropical lowlands in the west, with a variety of ethnic and cultural groups in-between. Our scholarship students come from only one small part of the canton: the 43 rural communities that sit along the eastern slopes of the dormant Cotacachi volcano. The combined population in these communities is approximately 16,000, with 74% of the total indigenous (Kichwa) and 26% mestizo.
Life here has changed rapidly during the last decades. Once agrarian communities, increased population growth has left little land available for cultivation and people have become increasingly dependent on temporary migration and urban livelihoods. Today over 70% of the adult population travels daily or weekly to neighboring urban areas where they work mostly in construction, the production of artisan goods, and housekeeping. However, the poor pay and temporary nature of these jobs means that the majority of the local population remains permanently unemployed, and that poverty remains high.
While most families make huge efforts to ensure that their children attend school, for many it requires considerable financial sacrifice. Our scholarships are thus designed to help offset the cost of education for these families in order to increase the likelihood that their children finish high school.
For more information on how your donation can make a difference for these families, follow the link (Family Profile)!